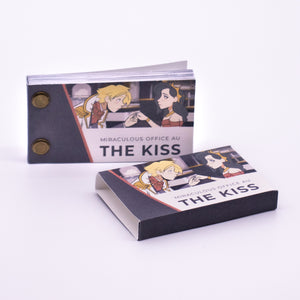 The Kiss Flipbook
Regular price
$30.00
$0.00
Unit price
per
Rewatch the iconic Felinette kiss scene from the end of Arc 5 of the ML Office AU again and again without having to rewind the Youtube video!
This limited edition, 3.5" x 1.875" (8.89cm x 4.76cm) mini flipbook contains 62 frames of animation that were printed, cut, and assembled by the creator herself. Each flipbook has been signed and numbered (out of 20) by Emily Zurl and includes a slipcover to help keep the pages from curling too much after use.
Please note this item is NOT part of The Office Collection and is only sold individually.
***ONLY ONE PER CUSTOMER. IF AN ORDER INCLUDES MULTIPLE FLIPBOOKS THE ORDER WILL BE CANCELED. IF MULTIPLE FLIPBOOKS ARE ORDERED SEPARATELY WITH THE SAME CUSTOMER INFORMATION, THE DUPLICATE(S) WILL BE CANCELED.***
Please make sure to review our Store Policies before purchasing. At this time, I will not be shipping to the UK and Northern Ireland because of the new import VAT laws or Germany because of the German Packaging Act (VerpackG). I will also be unable to ship to the following locations as they are suspended by the USPS: Afghanistan, Belarus, Bhutan, Brunei, Chad, Cuba, Laos, Libya, Mongolia, Papua New Guinea, Russia, Samoa, Solomon Islands, South Sudan, Syria, Timor-Leste, Turkmenistan, Yemen. I apologize for the inconvenience.
***SHIPPING TIMES MAY BE LONGER THAN EXPECTED BECAUSE OF GLOBAL SHIPPING DELAYS, ESPECIALLY OUTSIDE OF THE US***
---
Share this Product
---